---
Thoughts of a Spiritual Nature / October 1997
---
By: John Stephens / Bible Teacher
ATP Colleagues in Ministry
---
"We can become everything God wants us to be."
---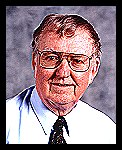 This month we will close our formal thoughts on covenant living. We know that our Father God has granted us all things through Jesus the Anointed One. We read in -
Romans 8:16-17 The Spirit Himself bears witness with our spirit that we are children of God, and if children, then heirs-- heirs of God and joint heirs with Christ, if indeed we suffer with Him, that we may also be glorified together. (NKJ)
This position in Jesus gives us access to all that God has, and that is covenant living. We found that the covenant is not like a contract where each party has certain responsibilities to perform, but is a will, a testament, whereby God gives us every thing Jesus has. Our only decision is to believe God or not to believe Him.
Most of us understand this when it comes to salvation, but stumble over living our lives in the same manner. We want to have "rules, regulations or laws" to obey. If we do, we "feel" right with God and if we do not, we "feel" God is upset at us. We then want to obey more in order to please God.
Many of our teachers and preachers have made that same decision. They spend a majority of their ministering time stating these rules, regulations and laws. We told the story of "Old Grouchy" in order to fix in your mind that in the relationship we have with God, He does everything! We are to believe, trust, and live our lives knowing He has, is and will forever take care of us.
Romans 1:17b as it is written, "The just shall live by faith." (NKJ)
Now, believing is our way of living toward God, but what about our way of living toward others, especially our enemy satan and his bunch of fallen angels. We believe God, but satan keeps reminding us of our failures. He keeps on hammering away at our "believing" by pointing out every circumstance that seems to deny God is taking care of everything.
God has provided for this and we must add this concept to our way of living. It is found in -
Isaiah 59:19-21 So shall they fear the name of the LORD from the west, and His glory from the rising of the sun; when the enemy comes in like a flood, the Spirit of the LORD will lift up a standard against him.
God tells us that the enemy will come in like a flood. How does the enemy come in? What does "like a flood" mean to us? In the book of Revelation we find a parallel to what God is saying here.
Revelation 12:15 So the serpent spewed water out of his mouth like a flood after the woman, that he might cause her to be carried away by the flood. (NKJ)
The "flood" came out of satan's mouth. What comes out of a mouth that can be interpreted as a "flood"? WORDS! Our enemy comes at us with words, lies, part truths, and any wicked thing that can be said. He uses our own mind and other people to keep the "flood" coming at times to get us where we have no solid foundation to stand on.
Have you ever watched as water flowed down a river bed carrying trees, sometimes even houses, and destroying everything in its path? Have you seen or read about the destruction a flood causes? This is why God says our enemy comes in like a "flood", using words of destruction to bring us down and to destroy us. Satan wants to do to us what the water does in a flood.
How do we stand? What has God prepared for us to use as we use our belief? There is a "standard" lifted up by the Spirit of the Lord! What is the "standard"? How do we make use of the "standard"? We find the answer in two passages. The first is in -
Revelation 12:11 "And they overcame him by the blood of the Lamb and by the word of their testimony, and they did not love their lives to the death.
The "word of their testimony" was the overcoming action they used!
And we find in Isaiah 59:21 "As for Me," says the LORD, "this is My covenant with them: My Spirit who is upon you, and My words which I have put in your mouth, shall not depart from your mouth, nor from the mouth of your descendants, nor from the mouth of your descendants' descendants," says the LORD, "from this time and forevermore." (NKJ)
God has placed His Word in our mouths. (Not only in our minds, Psalm 119:11 "Your word I have hidden in my heart, that I might not sin against You! (NKJ)" not only in our Bibles, but He wants the Word in our mouths.) We overcome the "flood" of the enemy by God's Words coming out of our mouths, which is our testimony! Jesus used this when He was tested. Jesus only responded with the Word.
We believe God has provided the perfect weapon to use. His Word is perfect and satan can not stand against the Word. It is more than a dam that diverts the "flood", it swallows it up.
We now have every thing we need for covenant living. We can have triumphant lives, pleasing to God, serving Jesus and following the Holy Spirit. We can become everything God wants us to be.
---
John H. Stephens, is a good friend of Evangelist Perkins and this Ministry. John's page will be up-dated on a regular basis, so keep visiting his page. You can respond to his articles via According To Prophecy Ministries email given below. John 's email will be submitted to this page in the near future.
---
John H. Stephens: Secularly educated at the University of Texas and the University of Houston in Phycology, John found the real answer to life's questions and problems was in Jesus the Christ and His Word. Called to the ministry of pastor and teacher in 1973, he served as pastor in the Southern Baptist Convention. Filled with the Holy Spirit, he served as co-pastor of a nondenominational church and began teaching seminars in the Houston area. He has served on the operational staff on Oral Roberts Evangelistic Association and Morris Cerullo World Evangelism. He teaches several seminars, including the "Triumphant Church", "End-time Evangelism" and "Privileges of the Bride of Christ."
---
Your comments and suggestions are welcomed.
Please send your Email to: John Stephens