John H. Stephens, Teacher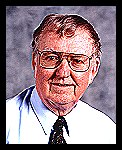 Thoughts of a Spiritual Nature March 1997
by: John H. Stephens
Isaiah 61:1 "The Spirit of the Lord God is upon Me, because the Lord has anointed Me to preach good news to the poor. He has sent me to bind up the brokenhearted, to proclaim freedom to the captives and release from darkness to the prisoners,".
Last month we spoke of Jesus being Glorified each time a need is met. We used the first miracle, the turning of water into wine, at the wedding in Cana as our scripture reference. As Jesus ministered, His Glory was manifested, the express image of God the Father. It was part of His life, daily activities, and was seen by those with Him.
I John 1:1-2 "That which was from the beginning, which we have heard, which we have seen with our eyes, which we have looked upon, and our hands have handled, of the Word of life; (For the life was manifested, and we have seen it, and bear witness, and shew unto you that eternal life, which was with the Father, and was manifested unto us;) (KJV)
Jesus is and has always been our example. The question is "Is the Life of God being seen in our every day life?" One major reason it is not, is because we "try" to be like Jesus with our human efforts, where Jesus was Jesus because He did what the Father said. John 14:8-10 Philip said to Him, "Lord, show us the Father, and it is sufficient for us." Jesus said to him, "Have I been with you so long, and yet you have not known Me, Philip? He who has seen Me has seen the Father; so how can you say, 'Show us the Father'? "Do you not believe that I am in the Father, and the Father in Me? The words that I speak to you I do not speak on My own authority; but the Father who dwells in Me does the works. (NKJ)
Jesus listened to God and did the things God told Him to do. Every moment, God was His guide, His teacher, His comforter and His friend. No matter what was going on in the circumstances of His daily activities, God was His constant source, His supplier.
In teaching His disciples, Jesus made it known to them, that when they looked at Him, heard His teaching, or saw Him doing the miracles, they were seeing the Father God in action.
Now, what about you and I? Can we constantly listen to God the Father, or Jesus the Son, and know what to do every moment of every day? Jesus saw our need and gave us a teaching that will allow us to live a glorified life here, now. Our scripture is -
John 16:12-15 "I still have many things to say to you, but you cannot bear them now. "However, when He, the Spirit of truth, has come, He will guide you into all truth; for He will not speak on His own authority, but whatever He hears He will speak; and He will tell you things to come. "He will glorify Me, for He will take of what is Mine and declare it to you. "All things that the Father has are Mine. Therefore I said that He will take of Mine and declare it to you.(NKJ)
Jesus was leaving this earth as a human, with a human body, and He knew that His disciples (you and I) must have God s power dwelling in us in order to live the life He did, and wants every one of us to live. Jesus did not speak on His own authority while here on earth in the flesh and He says that the One coming will not speak on His own authority. What significance does this have to you and me?
First, we know that the fullness of God was in Jesus and we must know that same fullness is in us. God the Father, God the Son and God the Holy Spirit, the three in ONE, dwell in each believer.
The power Jesus had, we have.
The Glory that Jesus manifested, we can manifest.
The constant direction by God that Jesus had, we have.
Then why are we so weak in the our daily lives (and because we are weak, the church appears weak)?
Because we do not believe we have the same power and constant direction as Jesus, we do not give free reign to the Holy Spirit in our lives. Yet He is there, waiting for us to believe, grasp, and execute in our life. Who is He?
The Holy Spirit, a person, God almighty, teacher, guide, comforter, power giver, healer, willing to convict the world of Sin, show the believer the areas of their life that has been washed by the blood of Jesus but needs to be brought into submission of the Spirit. We MUST learn more about our constant companion, Jesus said in John 14:16 "And I will pray the Father, and he shall give you another Comforter, that he may abide with you for ever;" (KJV) He, the Holy Spirit will not leave us. Learn of Him, listen to Him, and live our lives in Him.
---
John H. Stephens, is a good friend of Evangelist Perkins and this Ministry. John's page will be up-dated on a regular basis, so keep visiting his page. You can respond to his articles via According To Prophecy Ministries email given below. John 's email will be submitted to this page in the near future.
---
John H. Stephens: Secularly educated at the University of Texas and the University of Houston in Phycology, John found the real answer to life's questions and problems was in Jesus the Christ and His Word. Called to the ministry of pastor and teacher in 1973, he served as pastor in the Southern Baptist Convention. Filled with the Holy Spirit, he served as co-pastor of a nondenominational church and began teaching seminars in the Houston area. He has served on the operational staff on Oral Roberts Evangelistic Association and Morris Cerullo World Evangelism. He teaches several seminars, including the "Triumphant Church", "End-time Evangelism" and "Privileges of the Bride of Christ."
---
Your comments and suggestions are welcomed.
Please send your Email to: John H. Stephens
---