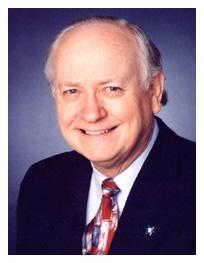 To whom it may concern:

I am writing to recommend Evangelist Don Perkins.

I first became acquainted with Don in the mid-80's, and got to know him very well around 1990. He has been a close colleague in the Lord since that time.

When I think of Don, I think of words like integrity, vision, commitment, and faithfulness.

Don is a gifted and anointed communicator. He has the skill of making complex ideas simple to understand. He is a very effective public speaker, full of fire and zeal and enthusiam. He is visually oriented in his presentations, and he makes clever use of charts, diagrams, outlines and special illustrations. He is mentally sharp and personally polished.

His approach to prophecy is thoroughly based on the Bible. He is non-speculative and non-sensational.

Most important, he is sold out to the Lord.

I can recommend him to you without hesitation and without reservation.

Sincerely,

Lamb and Lion Ministries
Dr. David R. Reagan
P.O. Box 919
McKinney, TX. 75070
Website: www.lamblion.com
(972)736-3567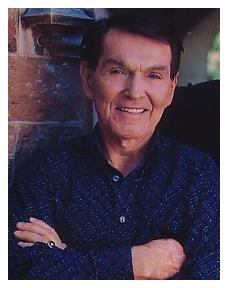 To whom it may concern:

Don Perkins is a bright young Evangelist who has an uncanny grasp of Bible Prophecy. His messages are practical, biblical and deeply motivating to Holy Living, soul winning and missions.

Any Church that shares his doctrinal persuasion would find his ministry helpful. His personal life is an example to believes.





Dr. Tim LaHaye
is a noted author, minister, and nationally recognized speaker on Bible prophecy. Dr. LaHaye is the founder and president of Tim LaHaye Ministries and the co-founder of the Pre-Trib Research Center
Website: www.timlahaye.com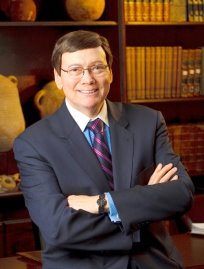 To whom it may concern:

Donald Perkins is one of America's best Bible prophecy teachers. His messages are biblical, relevant, powerful, and captivating.

He is a valued personal friend, teacher of truth, and an esteemed colleague.

He has my deepest respect, sincere appreciation, and highest recommendation.




Dr. Ed Hindson
Distinguished Professor
School of Religion
Assistant Chancellor and Dean of the
Institute of Biblical Studies at
Liberty University
(434) 582-7711
President of World Prophetic Ministry
Bible Teacher on "The King is Coming TV"
Website: The King is Coming TV Program




Bishop George Dallas McKinney Ph.D.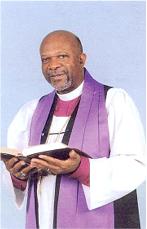 To whom it may concern:

Evangelist Perkins learned his lesson well, he's sober in his approach and very biblical in his exhortations and exposition.

It's a blessing to have Evangelist Perkins share this great ministry with us at St. Stephens, Church of God in Christ.


Sincerely,

Bishop George Dallas McKinney Ph.D.
St. Stephen Church of God in Christ
5825 Imperial Avenue
San Diego CA. 92114
(619) 262-2671

Dr. Darrow Perkins, Jr., Th.D. , Pastor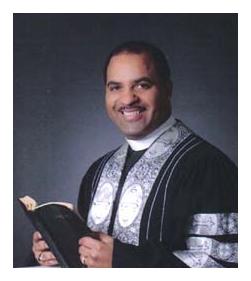 To whom it may concern:

This letter is being presented to recommend Evangelist Donald Perkins and the According to Prophecy Ministries to any and all who desire to hear the Word of God from an Eschatological perspective.

Our church has had the blessed opportunity to have this ministry come to us and share the Word of God. Evangelist Perkins is gifted to share what "thus saith the Lord" in such a manner that is relevant, reachable, and receivable. His ability to tie in today's events as they relate to the foundational truths of Scripture is uncanny and truly anointed. During the presentation, his passion for the gospel and having people to fully understand this facet of the Word of God was evident due to his sharing with conviction and authority. As he shared with us, we were able to see just how subliminal the enemy operates and now we're seeing through the eyes of the Word of God instead of the eyes of the world.

I believe that your ministry would be enriched and encouraged if you allow this man of God to come and present the Good News of Jesus Christ to the flock whom the Lord has made you overseer.

Serving the Lord and His People,

Dr. Darrow Perkins, Jr., Th.D.
Pastor, Mesa View Baptist Church
12855 Black Mountain Road
San Diego, CA 92129
858.538.5553 (Church)
858.538.2116 (Fax)
Website: http://www.mesaview.org
Email: pastor@mesaview.org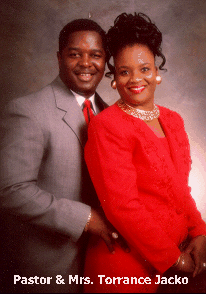 To whom it may concern:

It is with deep elation that I personally recommend to you the ministry of Evangelist Donald Perkins.

Donald has ministered at our church and these meetings have proven to be very beneficial to the body. His ministry is sound, Bible based and very much anointed. The contents of every message has been excellent.

Donald will bless your church and will work very closely with you as a local pastor. He is very easy to cooperate with and appreciates every kindness shown to him.

It is with great liberty that I recommend this man and ministry to you!

Advancing the Kingdom

Pastor Torrance A. Jacko
Ambassadors International Ministries
9494 Black Mountain Road
San Diego CA. 92126
(619) 549-2718

Dr. Sherman &amp First Lady Marina Gordon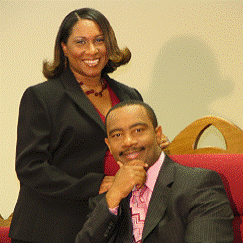 To whom it may concern:

What an inspirational, eye-opening, thought-provoking and mind-changing seminar on the fulfillment of Biblical prophecies. Evangelist Perkins has a thorough knowledge of the Bible and he gives scriptural references that clarify and solidify his teaching. His captivating visual presentations and his written works are excellent sources."

Family of Faith Christian Center
Dr. Sherman &amp Marina Gordon
345 E. Carson Street
Long Beach CA. 90807
Phone: (310) 288-3511
Ministry Website: Family of Faith Christian Center Website
Ministry Website: Dr. Sherman Gordon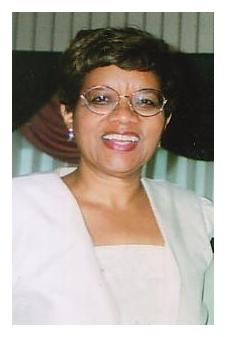 To whom it may concern:

"I am writing on behalf of Evangelist Donald Perkins. It gives me great pleasure to provide this letter of reference for Evangelist Perkins who serves on our faculty at Immanuel Bible College."

"Without exaggeration, I can say that during his ten years as Instructor of Bible Prophecy and Old Testament History at Immanuel Bible College. Evangelist Donald Perkins has proven to be outstanding in each of these areas."

"His devotion to God and respect for His Word are apparent by his depth of knowledge and liveliness in teaching style. Additionally, his high moral character and integrity as a family man qualify him as a leader in evangelism and Christian Education."

"I pray that these observations will assist you if I can be of any further help do not hesitate to contact me at: (619) 263-2349"

Sincerely In Christ Jesus

Rev. Joyce M. Vaughn
Immanuel Bible College
P.O.Box 152396
San Diego, California 92115
Email: Joyce M. Vaughn [jmv.ibc@earthlink.net]
(619) 263-2349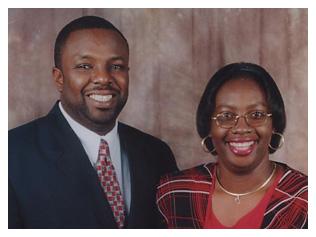 To whom it may concern:

The ministry of Evangelist Donald Perkins, has been and is a tremendous blessing to us here at Praise Tabernacle Church in St. Maarten, Netherlands Antilles. His ministry is equally effective to both young and mature Christians. Brother Perkins is a gifted and anointed communicator, that shares the word of God with integrity, biblical soundness, and stirs the heart of God's people to live holy in light of the coming of our Lord and Saviour Jesus Christ and brings sinners to a saving knowledge of Jesus Christ.

We highly recommends this ministry to anyone who wants a deeper understanding of Bible Prophecy, we believe that the ministry of Evangelist Perkins was an answer to prayers of our church. The congregation at Praise Tabernacle Church in St. Maarten is now even more equipped to share prophecy in a clearer way to family and friends with the possibility of winning them to Christ.

This ministry of Evangelist Donald Perkins has truly been and still is a blessing to Praise Tabernacle, and will be to any other ministry that will have it.

Praise Tabernacle Minsitries
Pastor &amp Mrs. Franklin Bell
Wrigley Street #4
St. Maarteen. Netherlands, Antilles
(011-599) 544-5349 / (011-599) 548-4746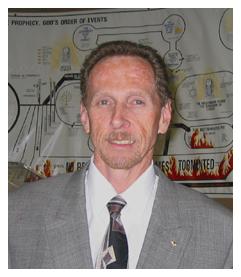 To whom it may concern:

It is with great pleasure for me to recommend the ministry of Evangelist Don Perkins. Don brings a wonderful and pointed message of the truth of God's Word concerning Bible Prophecy and the End Times. At each Prophecy Conference, souls have been won for the Kingdom of God, and the lives of believers have been greatly enriched, Don is thorough and diligent in his teaching and service to the Lord Jesus Christ.

I can without hesitation recommend the ministry of brother Don to you and fully believe that any investment you make in him will reap eternal rewards. He is truly a servant of God and an evangelist of great anointing.

Pastor Eric L. Fooks
His New Church:
New Life Assembly of God
21924 Calhoun Drive
California City, CA 93505
(760) 373-7813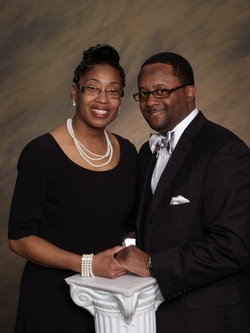 To whom it may concern:

Greetings!

My name is Pastor David Anthony Clarke, Sr. I serve as the Senior Pastor of the Union Grove Missionary Baptist Church of Warner Robins, GA and Founder/President of Clarkehouse Ministries. It is my pleasure to commend Evangelist Donald Perkins for how he allows God to use him to share the wonderful promises toward the saints found in God's Word.

Evangelist Perkins has passionately shared numerous topics with our congregation for years to include Rejoicing Through the Book of Revelation, The Rapture of the Church, and The Second Coming of Christ to name a few. His creatively simple presentations are easy to follow and very palatable for the Body of Christ. His passion for the people of God to prepare for what God has in store is contagious. Souls have been saved during his meetings at our church.

He is truly a vessel in the hands of Almighty God. We give the Lord glory for the fruit of According 2 Prophecy and enthusiastically recommend Evangelist Perkins for any ministry that desires God's people to understand what has already been prophetically declared in God's Word to give the saints hope and strength.

Pastor David Anthony Clarke
Union Grove Missionary Baptist Church
809 S. Davis Drive
Warner Robins, GA.31088
(478) 922-5514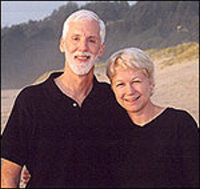 To whom it may concern:

I have had the opportunity to hear Evangelist Donald Perkins teach from the book of Revelation several times. He is a gifted communicator, with a heart for the lost and for the church. He has an unusaual grasp of Biblical prophecy, and presents it in a way that is both relevant and motivational.

Evangelist Perkins is a student of the Word and a committed teacher of its truths. He is passionate and articulate. He is able to make complex prophetic passages accessible to the student in a clear and engaging way. He is not afraid to challenge the listener to make appropriate life changes to prepare for a future that the Word of God so clearly reveals is coming. His deep love for the Lord backs up his message.

For any church or organization that shares his doctrinal orientation, I would highly recommend him as a speaker or conference leader. I am confident that he would be a great help and blessing to your group.

Ecola Bible School
W. David Duff, Director
P.O. Box 190
Cannon Beach, Oregon 97110
(888) 436-2552 / Info@ecola.org

All Glory Goes to Jesus Christ our Lord and King!

According To Prophecy Ministries Conference Schedules