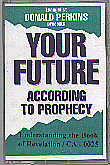 In apprecitation of your visit to our web site, we would like to send you a free audio gift from According To Prophecy Ministries.
This tape is entitled "Understanding The Book of Revelation" (CA-0025) on this tape Evangelist Perkins gives you an overview of the study of the Book of Revelation.
This is a great message for any person who wants to know more about the book of Revelation, but was afraid to study it. If you ever wanted to understand the Book of Revelation, this tape is for you!


Please send your correspondence to

Evangelist Donald Perkins