2018 WCBPC Sponsorship Offer:
Rose Guide To the Tabernacle
By: Rose Publishing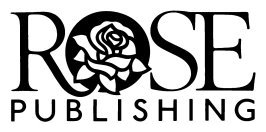 Product Description The Tabernacle was the place where the Israelites worshiped God after the Exodus. Learn how the sacrifices, utensils, and even the structure of the tabernacle were designed to show us something about God. See the parallels between the Old Testament sacrifices and priests' duties, and Jesus' service as the perfect sacrifice and perfect high priest in this useful resource.
See how: the Tabernacle was built, the sacrifices pointed towards Jesus Christ, the design of the tent revealed God's holiness and humanity's need for God, and the Ark of the Covenant was at the center of worship. This book contains illustrations, charts, and diagrams not available elsewhere.
Features:

Clear plastic overlays to reveal internal details
Beautiful illustrations of each section of the tabernacle: the Courtyard, Holy Place, and The Most Holy Place
Includes explanations of the furnishings: the bronze altar, the laver, the golden lampstand, the altar of incense, the table of showbread, the ark of the covenant, and the mercy seat
The sacrifices and the calendar of feasts and holy days
The garments of the high priest, and much more
Dozens of reproducible charts and time lines R
ose Publishing Product Code: 673X

2018 WCBPC Sponsorship Offer:
Heavenly Rewards / Living with Eternity in Sight
By: Dr. Mark Hitchcock
Are You Living in Light of Eternity?
It's difficult to imagine eternal life. But when you've got only one life and you know there is coming a day when you will stand before God, it's important to consider whether you're living each day like your life depends on it.
If you're a Christian, the good news is God's judgment isn't about determining your salvation—it's about rewarding your faithfulness. Salvation cannot be earned—it's already yours.
In Heavenly Rewards you will uncover fascinating truths about how the life you live today determines your life in eternity. You will… learn tangible ways you can please the Lord in your everyday living discover that your labor and sacrifices are never in vain—God is a faithful rewarder see the benefits of living faithfully and enduring through even the most difficult times Yes, your faithfulness will be rewarded. God knows the smallest details of your days, and He wants to acknowledge your every act you've done for Him.
Living well with an eternal perspective really can change your life—for good.
PRODUCT DETAILS
Release Date: July 2019
Page Count: 192
Size: 5 1/2 x 8 1/2
Binding: Perfectbound
ISBN: 978-0-7369-7653-4
Case Lot Quantity: 68