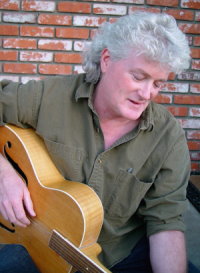 Rolltop Music releases new CD "Are You Ready?" by Steve Van Belle
"Singer/songwriter Steve Van Belle, brings his new original music CD entitled "Are You Ready" to the Church and beyond. With an intensity that reflects his passion for Christ and the Church, each song proclaims a message of candor and hope for these Last Days. Steve Van Belle believes every word he sings , says producer Tim Coffman he is one of the most genuine artists that I have ever worked with."
Songs Include:
Click the Icon to download and hear a MP3 sample of the songs.

Only What s Done for the Lord Will Last
When Jesus Comes Back Again
New Jerusalem
Everyone Calling
When You See These Things
God So Loved
Hurricane
Stronger Than Death
Only True Hope
Holy is the Lord
Here is a track-by-track review of each song.
TRACK ONE: ONLY WHAT'S DONE FOR THE LORD WILL LAST
This perfectly placed opening track sets the tone for the entire album. The launching guitar riff screams out this isn't another vanilla Christian CD. The lyrics are just as solid. The world will melt away and only what's done for the Lord will last.
TRACK TWO: WHEN JESUS COMES BACK AGAIN
Crank the volume on this one. The driving eighth notes of electric power chords are traditional rock at its best. The meaning is classic too. Jesus will bring true harmony and peace to the world when He returns.
TRACK THREE: NEW JERUSALEM
In this bouncing rock track Van Belle's melody hook is smooth and catchy. I found the chorus looping in my head long after the first listen. Whether actual or metaphoric, we can all cling to the idea of Jesus bringing a New Jerusalem. No more hunger, no more war. What better concept to have impressed on your mind than the hope of living with Jesus.
TRACK FOUR: EVERYONE CALLING
Bold and evangelistic, Van Belle's rock vocals cry out the unmistakable truth of salvation.
TRACK FIVE: WHEN YOU SEE THESE THINGS
This track is the first change of pace. A slow rock blues number that grinds out a darker edge. Think of the best message rock of the late sixties and early seventies. The focus of When You See These Things is prophetic. One look at today's headlines and we can see time is short.
TRACK SIX: GOD SO LOVED
All ballads hang their heart on love, usually the infatuation of boy meets girl. This love song elevates to the power of God's true love, the power to save. Van Belle's passionate vocal reminds us God's love is big. Much, much bigger than us.
TRACK SEVEN: HURRICANE
Very creative guitar work and production. Hurricane might be my favorite song on the CD. I love when the music and the theme feed off each other. A swirling of electric guitars and intersecting parts this song is simple, yet complex. Just like the Holy Spirit.
TRACK EIGHT: STRONGER THAN DEATH
This track is a giant ballad of God's enormous love for humanity. Phrases like, the red blood that ran and Your love is stronger are potent expressions and brilliant pop slogans. The most poetic of the songs offered this is a stand out. The chorus is huge and the call and answer section at the end is timeless.
TRACK NINE: ONLY TRUE HOPE
As a ballad, it's tough to follow Stronger Than Death, but don't skip this one. Van Belle's tenderness is a stark contrast to his strong rock vocals. The chorus has fresh chord changes and the line, peace falls over my soul rivals the title. I suppose though, you don't own the peace until you know the hope.
TRACK TEN: HOLY IS THE LORD
This closing worship song highlights Van Belle's poignant message of readiness. Here he gives us a practical step to follow. Fall down before the Lord, because He is holy. He desires us to be holy through Him. Are you ready?